Crocheting is an excellent hobby for busy individuals, as it is a great way to relieve stress and leaves you with a finished product that is both easy on the eyes and functional.
But if you are reading this article, you already knew that. You are probably inspired to make beautiful things, you've got your yarn and your crochet hook…. and you might be wondering: Now what? This article assembles basic tutorials for people that are just starting to learn how to crochet and covers the supplies and techniques you'll need to get started.
Now let's get moving!
Getting Started: Supplies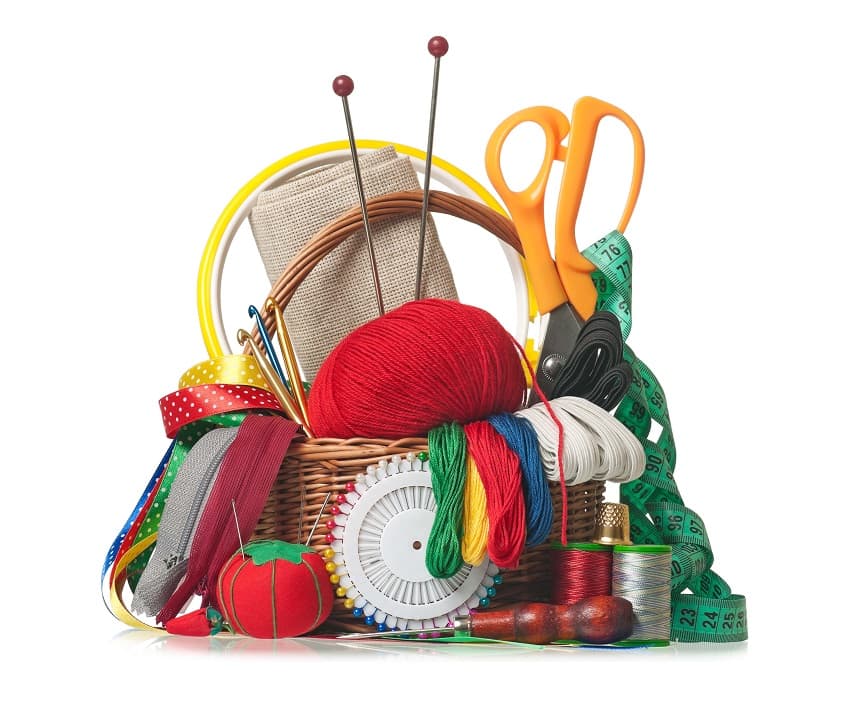 You'll need your yarn, you'll need your crochet hook, and you'll need a few other things before you start making the beautiful items you'll see later on in this article. This article is all you need to get started.
Reading a Crochet Pattern
In any discipline, you need to learn the rules first so that you know when to break them. While your inner-artist might be ready to unleash her creative energy on your new design, structure is important. And in crocheting, the structure comes from crochet patterns, which you can learn how to read here.
Types of Stitches
Every crochet project begins with a crochet chain. This article shows you how to do both the slip knot and chain stitch, two of the most common stitches.
After the chain stitch, the single crochet is the next most important stitch to know. The beauty of it is that, once you learn the single crochet you can make almost any item with it!
Once you have mastered the single crochet stitch, you might desire a faster way to complete your project: enter the double crochet. After all, if time weren't an issue you could have just taken up sowing! The double crochet will help you get your crochet projects completed faster and is actually a little bit easier to work with than the single crochet stitch because it gives you more loops to work with.
And if you find yourself getting bored with the same old stitches, why not change it up with a crocodile stitch?
Finally, those on the time-consuming quest to make a better blanket should learn the corner to corner crochet stitch, which will save you a lot of time.
Tie Up Lose Ends: Magic Circles & Weaving Tails
The magic circle is a particularly useful technique for making hats, but can be used on any circular item you are making. Sometimes, despite your best intentions, you'll end up with a big 'ol hole at the top of the hat you are making. The magic circle technique is a way of avoiding this problem from the get-go.
A second problem a lot of beginning crocheters face is that, when they finish a project, they find that it has a lot of unsightly loose strings hanging off it. These are known as tails, and can be one of the most frustrating parts of crocheting. Luckily this tutorial will show you how to get rid of them.
How To Crochet A Granny Square
Granny squares are another basic pattern to have in your crochet toolbox. Don't let the name turn you off- they are extremely versatile and can be used to make everything from rugs to blankets to envelopes and beyond!
Once you get granny squares down, why not use your newfound skill to make a granny square scarf or a hat?
Making Items

Now that you have the basics down, it is time to apply what you have learned. And there is only one way to do this- grab your gear, take a seat, and start trying yourself!
If you cant wait for spring and want to see a flower in the middle of March, this tutorial will show you how to make a beautiful five petal flower that you can use to spruce up your living area.
For those who are a little further along in their crochet journey and are feeling extra ambitious, go ahead and try to make this little flower handbag purse using this tutorial.
If you are feeling especially ambitious and want to create a little beautiful flower handbag purse to give to that special little lady in your life. Every little girl needs a cute handbag and one that is custom made for her will be even better than anything you can find in a store.
What was your first crochet project? What other tutorials do you recommend for a beginner crocheter?
Let us know in the comments!