Welcome to the wonderful world of crochet! If you're looking for a trendy, stylish yet simple project, then you've come to the right place. In this easy free tutorial, we'll show you how to crochet a beautiful crop top that will add a touch of elegance and individuality to your wardrobe.
Crochet is not only a creative and relaxing pastime, but it also allows you to create unique pieces of clothing that enhance your personal style. With this DIY crochet summer top project, you'll be able to create a breezy top that's perfect for warm days or special occasions. The crochet tutorial is also great for beginners.
So grab your crochet hook, choose your favorite yarn and let's make the crop top of your dreams together.
How much yarn do I need to crochet a crop top?
The amount of yarn you need for a crochet crop top depends on several factors, such as the size of the top, the thickness of the yarn used and the crochet pattern. A good way to estimate the amount you will need is to check the crochet instructions. The instructions usually include information on the type and amount of yarn needed. For example, the amount needed for a children's cotton top up to size 6 is about 150 g, for a women's crop top - about 200 g.
Once you have decided on a pattern, it is best to check the instructions to find out exactly how much yarn you need. This way you can make sure you have enough for your crochet crop top without running out.
What type of yarn is best for a crochet crop top?
Light and airy yarns are especially good for a crop top to ensure a comfortable feel and a nice fit. Below are some yarns such as cotton, linen, viscose and silk that are great for a crop top:
1. Cotton is lightweight, breathable and comfortable against the skin. It offers good moisture absorption and is perfect for warm days.
2. Linen is known for its cooling properties and ability to wick away moisture. It is a great option for a DIY crochet summer top.
3. Bamboo is a natural fiber that is soft to the touch and has excellent moisture-wicking properties. It is lightweight and ideal for a breezy crop top.
4. Silk gives your crochet summer top a luxurious sheen and soft feel against the skin. It is lightweight and cooling and is perfect for dressy or special occasions.
You will need the following for your crochet crop top:
Yarn for size 6 is approx. 150 g - cotton, 50 g / 110 m (120 yards)
Hook size: 3 mm
Sewing needle, scissors
Basic pattern: double crochet in the first row; single crochet in the second row
TIP:
When buying yarn, pay attention to the length and thickness. Depending on what pattern and crochet technique you want to use, you can choose a thinner or thicker yarn.
TIP:
It is always advisable to make a gauge swatch. This way you can make sure that the yarn and needle size meet your requirements for the crop top.
Gauge for the crop top (size 6): In basic pattern with needle no. 3: 21 stitches x 16 rows = approx. 3.9" x 3.9" (10 x 10 cm)
Crochet Crop Top - Free Pattern
With these detailed step-by-step instructions, you'll quickly be able to complete this enchanting crop top. Crochet the crop top from the top down.
Row 1: Chain 40
Row 2: Single crochet into each chain, chain 3 at the end
Row 3: Double crochet into each single crochet, chain 2 at the end
Start increasing the stitches to create a slant at the sides by increasing by 2 at the end of each row.
Row 4 : Same as row 2
Row 5: 10 double crochets, 13 x 1 double crochet with 1 chain each, 10 double crochets. You have just created the decorative linked double crochet pattern.
Rows 6 to 14: Same as rows 2 and 3
Now increase 10 stitches on both sides in the back rows. We made 3 increases. The number depends on the lower bust measurement.
When the desired circumference is reached, continue crocheting in double crochet. We have added 3 rows of linked double crochets as described above (row 5).
Once the top has reached the desired length you can create a scalloped edging all around as follows: *1 single crochet, 5 double crochets into the same stitch*.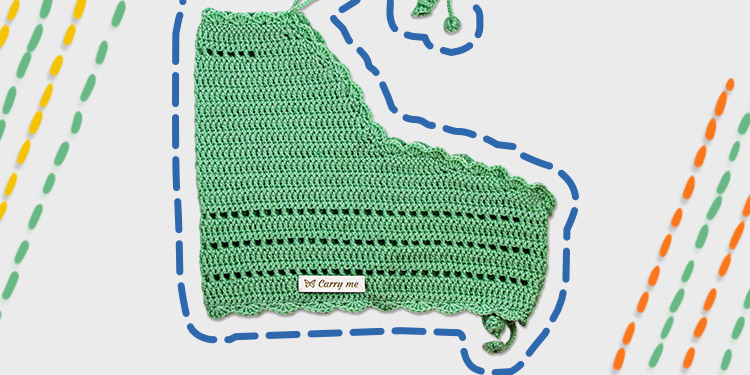 Crocheting the ties
To create a halter for the crochet crop top, chain approx. 50 onto each side of the neckline. Finish the ties off by working 12 single crochet stitches into the penultimate chain. Then close the ring with a slip stitch and weave in the tail.
For the closing at the back you will need to chain about 200, then thread the tie through the lower back of the top as if you were threading shoelaces into eyelets. Finish off by adding approx. 12 single crochets to the ends as you did with the halter tie. With this "lace fastening" you can adjust the width under the chest.
And don't forget to add your personalized leather label!
Weave in all the threads and you're done!
Don't miss these blog posts from Wunderlabel:
How to Knit a Triangle Shawl - Free Tutorial
Crocheted Potholder with Pot Design
Macrame for Beginners - How to Make a Macrame Organizer
Do You want to save this idea for later?

Simply bookmark the link to this blog post or add it to your "Favorites" so that you can quickly find it in your browser later.
Here is how to save the tutorial:
On your computer: Click on the asterisk or the three dots in the top right hand corner or on the book icon in the top left hand corner (depending on the browser you use).
On your Android smartphone: Click on the three dots in the top right hand corner and then on the asterisk.
On your iPhone: Click the book icon at the bottom and add the link to your bookmarks or book list.