The days are getting shorter and the evenings are colder: summer is officially over! But don't be sad because there are plenty of things to look forward to like cozy nights in, cuddly sweaters and hot chocolate. To get you in the mood for the cold season we want to show you how to knit a baby hat to keep your little ones warm and make them look even cuter. Find out how it's done with our free knit baby hat pattern.
Our hat with rolled edge is suitable for a head circumference of 46 / 48 cm. Measure your child's head before you begin and adjust the quantity of yarn accordingly.

How to Knit a baby Hat - This is what you'll need:
Yarn: Butt Versailles 100 % polyacrylic, 50 g = approx. 196 m
One circular knitting needle 3.5
A wool darning needle
Let's get started! Here is our Easy Knit Baby Hat Pattern (circular needles):
Stitch sample: 10 cm corresponds to 27 stitches and 34 rows

The hat is knitted in the round. We used a 30 cm circular knitting needle and then double pointed needles, like the ones used for knitting socks, for the decreases.
Start by casting on 106 light blue stitches. Only the first round is purled but all subsequent rounds will be knitted as per below.
Knit the 2nd and 3rd rounds in mid blue. After that knit 35 rounds in light blue, 2 rounds in mid blue and another 9 rounds in light blue.
In the 9th round you will need to decrease the stitches by 2. Do this by knitting 2 stitches together at the beginning of the round and 2 in the middle of the round. You will be left with 104 stitches on your needle which will then be distributed evenly over 4 double pointed needles.
Knit the decreases for the hat as follows:
In the 1st round (mid blue) you will be decreasing the stitches a total of 8 times (by knitting together 2 stitches at regular intervals), meaning that you will knit 11 stitches and then knit 2 together and so on until you have finished the round.
The 2nd round (mid blue) will simply be knitted
3rd round until the finish (light blue):
Decrease the stitches every second round and change colors.

As soon as there are only 8 stitches left, continue knitting for another 2 cm, bind off and use the darning needle to hide the end of the yarn. Your cute baby hat is finished!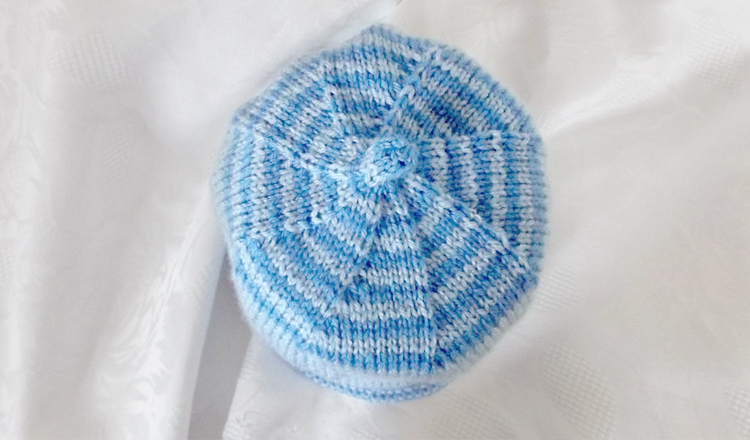 Complete your project by adding a Woven Label with Text & Symbol with your child's name on it. Not only does it add a nice finishing touch but it also makes sure that the hat always finds its way back to you.
We hope that you enjoyed our knit baby hat pattern! Show us your baby hat on Facebook and Instagram using #wunderlabel!
Don't miss these blog posts from Wunderlabel:
How to Knit a Scarf for Beginners
Do You want to save this idea for later?

Simply bookmark the link to this blog post or add it to your "Favorites" so that you can quickly find it in your browser later.
Here is how to save the tutorial:
On your computer: Click on the asterisk or the three dots in the top right hand corner or on the book icon in the top left hand corner (depending on the browser you use).
On your Android smartphone: Click on the three dots in the top right hand corner and then on the asterisk.
On your iPhone: Click the book icon at the bottom and add the link to your bookmarks or book list.