Would you like to make a knit dog sweater for holidays? Then you're in the right place!
This eye-catching dog sweater with pompoms is perfect for small breeds and is festive for the holiday season.
Have you already knitted an ugly Christmas sweater for yourself or are you just planning an ugly Christmas sweater party? Don't leave your dog out of the fun! In these instructions we will show you how to can make the perfect knit dog sweater for your furry friend.
Not only does this DIY dog sweater look amazing, it will keep Fido feeling warm and cozy. This tutorial is great for beginners because it uses only the knit and purl pattern.
Are dog sweaters for males and females knitted in the same way?

If you are using a dog sweater knitting pattern, you may have a few questions. One of them is whether the pattern should change for a male or female dog.
Dog sweaters for males and females are basically the same. The only difference being that for males, the cutout on the belly needs to be deeper. You can achieve this by casting the stitches off a bit earlier in this area.
What kind of yarn should I use for my DIY dog sweater?

When choosing yarn for a dog sweater there are a few important points to keep in mind. Wool is warm and is nice for small breeds that are particularly sensitive to the cold, while synthetic blends are very soft and inexpensive. Sock wool is a great choice for dog sweaters since it holds up well to many washings and keeps its shape. It is usually made up of a mixture of wool and polyacrylic. A sock yarn dog sweater is warm and robust which is a perfect combination.
How much wool is needed for a small dog sweater?

The amount of yarn needed depends not only on the size of the dog, but also on the type of yarn, needle size and knitting technique. As a rule-of-thumb, a plain-knit sweater for small breeds or puppies is around 100 g. of yarn is needed. Keep in mind that knitting techniques such as patent or cable-knit patterns require a lot more yarn.
How can I calculate stitches for a dog sweater?
You can adjust the dog sweater pattern to your own dog if you calculate the stitches correctly. To do this, you have to: 1) measure your dog (neck circumference; back length, belly length and chest circumference); 2) make a knitting pattern 10 x 10 cm; 3) count the stitches and rows; 4) divide the number of stitches by 10 to get a per-centimeter count; 5) Multiply the per-centimeter count by the desired length.

For this dog sweater knitting pattern you will need:
100 g yarn - 260 m (about 285 yards)
Knitting Needles: Nr. 2
Yarn pieces to make the pom poms
Knit Sample:
It is important to measure your dog correctly and to make a stitch sample so that the sweater fits perfectly. In this case the 'dog sweater knitting pattern', the back length is 29 cm, the belly section 22 cm, and the chest circumference 36 cm. A knit sample of 10 x 10 cm contains 20 stitches and 30 rows.

Step-by-Step instructions for a DIY dog sweater:
This knit dog sweater is knitted in the round from the top down. This tutorial is for a dog sweater for a male dog.

Step 1. Cast on 56 stitches.
Step 2. Stitch with 4 needles with 4 even intervals. Cast off in a circle.
Step 3. For the cuff, stitch 5-6 cm in a ribbed pattern.
Step 4. Stitch in a reglan pattern:
28 Stitches – Back section
6 Stitches – Arm
16 Stitches – Belly
6 Stitches – Arm
The reglan patterns are marked in red in the diagram. Here new stitches are increased every second row. Do this on both sides of the first and last stitch of the sleeves, but don't add any new stitches for the belly section: Reglan line A gets new stitches only on the left, Reglan line D gets new stitches only on the right, Reglan lines B and C get new stitches on both sides. Continue like this until the back part reaches 48 stitches, the sleeves 24 stitches each, the belly part remains 16 stitches.
Step 5. Cast on at the leg opening using the tail of yarn left and pick up 4 extra stitches, knit the stitches onto the back piece. Again cast on at the second leg opening and pick up 4 extra stitches. There are now 72 stitches on the needles.

Step 6. Knit 3 cm in the round.

Step 7. Knit 2 stitches together on both sides of the belly section. Knit 4 rounds and repeat this again. Knit 4 - 6 more rounds (adjust length to suit your dog!).
Step 8. Knit the last 2 cm of the belly section in a ribbed pattern so that the sweater fits snugly. Bind off the belly section.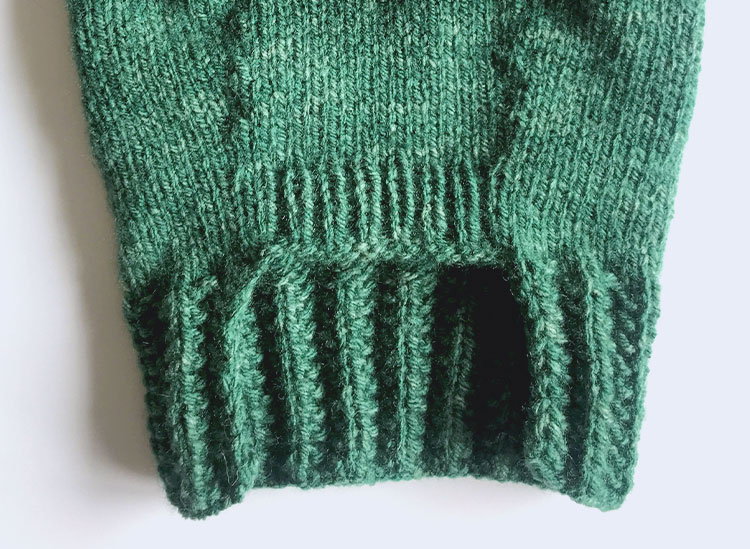 Step 9. From here you can no longer knit in the round, so you have to rotate the piece after every row. Knit the rest of the way back and forth with a ribbed pattern (6-7 cm). Adjust the length to fit your own dog.
Step 10. Stitch around the leg openings using the extra thread on the knitting needle. Cast on 4 extra stitches between the sections. Knit 1-2 cm in a ribbed pattern in the round and then cast off.

At this point your DIY dog sweater is ready but why stop there when you can add some embellishments. There are many ways you can do that! We suggest adding pom-poms. Making your own pom-poms is easy and they are perfect for sprucing up your dog sweater. Maybe add some pom-poms to your own Christmas sweater for a matching look.
Make your own pom-poms without a pom-pom maker

You can make your own pom-poms, even if you don't have a pom-pom maker.
Create 2 rings out of cardboard.

Stack the 2 rings together and wrap the yarn around them.

Stick the tip of your scissors in between the 2 cardboard rings and cut the yarn.

Pull a length of yarn through the pom-pom and knot it tightly. Snip the cardboard rings and remove.


The sky's the limit when it comes to how many pom-poms to make and in which colors.
Add the final finishing touch by adding a name label.

Tipps:
If you find it too complicated to knit in the round in one piece, you can always divide the stitches of the belly section in the middle. Knit with alternating rows (alternating back - right stitches, back - purl stitches), then the finished piece is sewn together.
Your knitted dog sweater for Christmas is finished!
Don't miss these blog posts from Wunderlabel:
Sew a Personalized Dog Bandana
Ugly Christmas Sweater - 8 Ideas with Knitting Patterns
Knit a Swaddle Wrap for Newborn
Do You want to save this idea for later?

Simply bookmark the link to this blog post or add it to your "Favorites" so that you can quickly find it in your browser later.
Here is how to save the tutorial:
On your computer: Click on the asterisk or the three dots in the top right hand corner or on the book icon in the top left hand corner (depending on the browser you use).
On your Android smartphone: Click on the three dots in the top right hand corner and then on the asterisk.
On your iPhone: Click the book icon at the bottom and add the link to your bookmarks or book list.