The run-up to Christmas can be stressful and busy: You have to organize family gatherings, buy and wrap presents, write Christmas cards.... But there is one thing we can all look forward to: A little daily treat from the advent calendar!
Sew your own advent calendar bags from fabric scraps with our free tutorial. It's a great project for beginners and little ones can help decorate the fabric advent calendar.
And don't miss the Advent Calendar video on our YouTube channel!
What fabric can I use to make Advent calendar bags?
Cotton is the best fabric for sewing the Advent calendar bags from our tutorial, as it is both strong and easy to work with. In addition, the fabric conceals the contents so that the surprise is not spoiled! Jersey, jute and felt are also often used for Advent calendar fabric bags.
How big should the Advent calendar fabric bags be?
For a few small treats, such as chocolates, our Advent calendar fabric bags measuring 25 x 13 cm (about 10" x 5") are sufficient. You can also make mini vouchers that can be redeemed for larger items. Ultimately the size is up to you and you can adapt it to the gifts you want to fill the calendar with.
What do you put in an Advent calendar for children?
Sweets are of course very popular, but there are also many other alternatives for filling the Advent calendar bags, such as vouchers, toys, accessories and craft materials. Cute socks, beautiful hair clips, stickers or rubber stamps can be bought cheaply and are lots of fun!
Materials:
- Fabric scraps
- Thread
- Ribbons
- Felt labels with numbers
- Personalized Gift Ribbon
Instructions:
1. Prepare 24 cut-outs from the fabric scraps for the Advent calendar bags. The size depends on what you want to put in the bags. We have chosen the size 25 x 13 cm (about 10" x 5").
2. Sew a 2 x 0.5 cm (¾" x ⅕") folded hem at the top. Use a 2.5 stitch for this.
3. Now lay the fabric right sides together making sure that the hemmed sides are at the top. Close the side and the bottom with a plain stitch.
4. Now hem the edge with a simple zigzag stitch.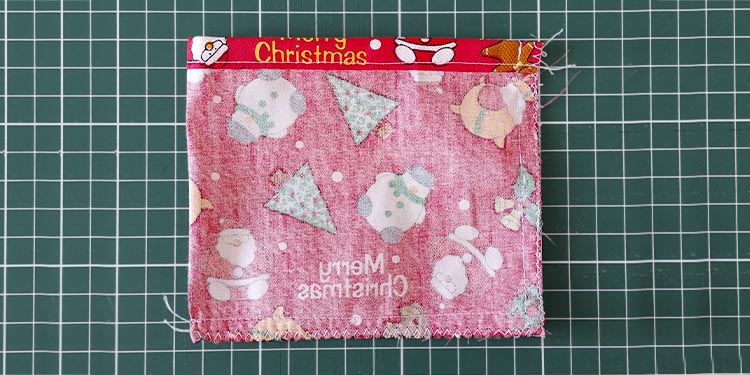 5. Turn the bags inside out and smooth them out.
6. Then fill the Advent calendar bags and tie them shut. If you don't want people to be able to feel what's inside, you can also add some cotton batting.
Your Advent calendar bags are done!
Finally, you can stick on the adhesive numbers and hang the bags up or place them in a decorative bowl or basket. Use your imagination to create a unique display!
Have fun and we hope you have a peaceful and creative run-up to Christmas!

Do You want to save this idea for later?

Simply bookmark the link to this blog post or add it to your "Favorites" so that you can quickly find it in your browser later.
Here is how to save the tutorial:
On your computer: Click on the asterisk or the three dots in the top right hand corner or on the book icon in the top left hand corner (depending on the browser you use).
On your Android smartphone: Click on the three dots in the top right hand corner and then on the asterisk.
On your iPhone: Click the book icon at the bottom and add the link to your bookmarks or book list.