You've mastered the basics of sewing and created some beautiful items for yourself, others and your home. From your beginners' projects, and if you've read our previous post 40 Sewing Projects for Beginners, you'll know that you need patience, practice and an element of problem solving. Never be afraid to make mistakes.
Do you think you've got the skills and you're ready for the challenge of moving on to slightly more difficult projects?
Let Wunderlabel help you with all your labeling needs! >>
If so, this is the list for you with ideas for some wonderful projects that will stretch your creativity, challenge you and make you even more proud than you already are!
As you're ready to tackle more difficult patterns, add more detail and explore a wider range of fabrics, this list should fire up your creativity.
For the Home
Curtains are wonderfully straight forward to make and you've probably transformed your home already, but blinds open up a whole new world of exploration. Choose your fabrics carefully from the extensive range available. Try following this great tutorial to make a Roman Blind.
Having mastered an envelope fold pillow case and colorful throw cushions, it's time to shift up a gear and add some personalisation with applique. Design Sponge has a step-by-step guide to make a beautiful applique cushion for your home with a repetitive pattern which you'll love making.
Chairs come in a variety of shapes and sizes so it takes a lot of patience to follow these free patterns or tutorial from HGTV, to make a made-t- measure slip for your chair. But when it's completed, your furniture, and your room, will be transformed just how you imagined it.
A tea cozy brightens and personalizes a kitchen workspace. It's a quick project to complete and a chance to practice your quilting techniques and get to grips with bias binding. The tutorial from We All Sew is easy to follow.
Being a practical and essential kitchen accessory, oven mitts are a must to make! If you're also planning on making a tea cozy, coordinate them to achieve a really impressive result. Crafty Gemini Creates has a tutorial and free downloadable template for these mitts and just like the tea cozy, you'll have the chance to practice quilting and using bias binding.
Smock-style Reversible Apron
More than just an apron, this has style and creativity. From Sew4Home, it features practicality with its full design and pocket, and beautiful appeal in the deep frill, flowing neckline and wide tie. With a downloadable pattern in a PDF file and a visual tutorial, this Smock-style Reversible Apron will be an enjoyable challenge for a sewer growing in confidence.
Outdoor Furniture Cushion
A cost effective way to update your outdoor furniture to keep up with the trends of the new season. Make It & Love It share a great tutorial which explains how to recover existing outdoor chair cushions as well as making new cushions from scratch with new foam inners.
Mollie Makes' post, explaining how to make a fabric doorstop, will introduce you to an accessory that will add a loving, individual touch to every room in the house. What's great about this design is that the cover has a zip fastening so you can remove it to wash. If you don't feel confident inserting zips yet, it gives suggestions for other fastenings.
Gifts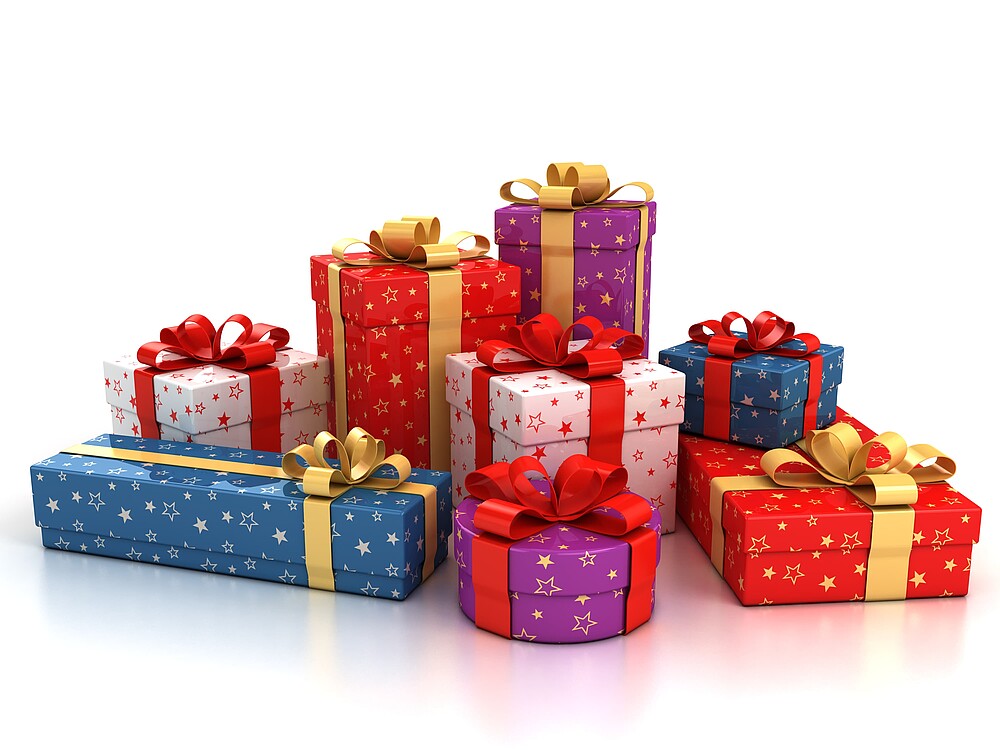 Make a beautiful shower wrap as a gift and enjoy practicing inserting elastic, using applique and fitting Velcro fastening. As it starts off as a bath towel, this won't be too pricey to make.
Design tip: Choose an applique design that you know the recipient will love. Check out the free templates on Homemade Gifts Made Easy.
A beverage gift, while appreciated by the receiver, can sometimes be considered a little impersonal by the giver. That won't be a problem if you create a personalized, insulated bottle gift bag, shared by So Sew Easy, that looks great and can be used to keep other beverages cool in the future.
Environmentally friendly, reusable and attractive. Present your gift in this lovingly made drawstring gift bag from Threading My Way. Totally versatile, you can vary up the theme with the choice of fabric for the bag and drawstring.
Portfolio and Notepad Holder
For the organized people on your gifts list, make a multi-pocketed notepad holder with neat button fastening. Let The Cottage Mama's tutorial guide you through your fabric choices, inserting pockets and tips for adding detail such as double stitching the edging for the perfect finish.
For Baby/ Kids
You'll love having a car organizer to store all the items that travel in the car with your child. The tutorial from Instructables will have you adding pockets and finishing off edges with bias binding, as well as creating straps to attach the organizer to the back of a front seat.
You'll love this diaper bag which has enough pockets to organize all your supplies and probably have some space left to store your keychain! Within the tutorial there is a link to a downloadable pattern to help you get all the measurements right, but there is also advice on how to alter the pattern to customize your final design.
Incredibly useful when you've got a newborn baby, a nursing pillow is great for helping you support baby during feeds and propping them up as they grow older. Made By Rae shows how to make a nursing pillow cover with a zip fastening through a step-by-step tutorial, but also gives you the option to download a free pattern.
What a cute, adorable accessory that any girl would love to take with her wherever she goes. Sew Much Ado provides a fantastic tutorial to make a heart-shaped back pack with zip-fastening, adjustable straps and a really sturdy design to survive the day's adventure!
If you're up for an extra challenge, try your hand at adding zippers, covered straps and elasticated pockets to make this adorable and spacious backpack for a grade schooler. Follow the link to download a free pattern in PDF format. With storage for all the school equipment
Accessories
SewChic's Flower Brooch is designed as an accessory for a child's dress but can easily be adapted to suit any outfit or age. It's a hand sewing project that you will love to make and add to an outfit or hair piece.
Finding a use for old clothes and getting yourself a great looking new scarf, make this twisted scarf to create a unique look for whatever season you choose. The fantastic thing about making a scarf is that it can be as long and as wide as you want it, so you can easily adapt this idea to suit you and your style.
Shared by Crazy Little Projects, this tutorial will show you how to pad the bag to protect your laptop, add strong handles, useful pockets and a zip fastening. It would be easy to adapt the design to add Velcro fastening on the side pocket or an extra pocket on the opposite side.
What better way to accessorize an outfit than with a home-made belt? Choosing the fabric and buckle that best compliments your outfit, use these instructions from A Beautiful Mess to create a statement.
If you're planning a vacation, you'll need a safe way to transport your jewelry. Follow these steps from Positively Splendid to make your perfect Travel Jewelry Case.
Tip: You can adjust the number of compartments for the types of jewelry you'll be taking with you.
Bags and Purses
Another great opportunity to put your developing sewing skills to practical use. Sew Can Do present a gym bag design adapted into a chic travel duffle bag. With sturdy handles, purse feet and piped edging, this has style, flair and a challenge in creating it that will definitely leave you feeling a sense of achievement when it's complete.
Imagine carrying your lunch in a beautiful little bag, made with your favorite fabric design and fastened perfectly with a drawstring. The Craft Passion blog has a link to the free pattern which is also broken down into an easy to follow tutorial.
You know those moments where you can hear your phone ringing but just can't find it among the multitude of items in your purse? You won't have to suffer those moments anymore if you follow these step-by-step instructions to make yourself the perfect organizer for all your essentials – and non-essentials.
Make-up Brush Roll-up Case
This brilliantly designed make-up brush roll-up case is neat, attractive and purposeful with sizes to make pockets for each of the different brushes you may have. If the sizes given don't suit your equipment, adjust them so they do.
Clothing
If you have a special occasion coming up, you could use this pattern to make a bow tie to match a lady's outfit. Sew Like My Mom has a downloadable pattern and the tutorial explains how to adjust the size to fit the neck – whether it's being made for an adult or a child!
An eye-catching design that will be a pleasure to make and to wear, the tiered ruffled skirt is featured on the Chica and Jo website. It not only features a visual method for completing the skirt but also has a link to a calculation tool for the skirt measurements.
When it comes to wardrobe essentials, this is definitely one of them. Whether you dress it up or down, you'll look great. The Merrick's Art tutorial for the high-low dress gives suggestions for suitable fabrics as well as detailed step-by-step instructions.
Combination tip: Why not match up a high-low dress with a Fashion Belt?
Discover all the possibilities with Wunderlabel!
Do You want to save this idea for later?
Simply bookmark the link to this blog post or add it to your "Favorites" so that you can quickly find it in your browser later.
Here is how to save the tutorial:
On your computer: Click on the asterisk or the three dots in the top right hand corner or on the book icon in the top left hand corner (depending on the browser you use).
On your Android smartphone: Click on the three dots in the top right hand corner and then on the asterisk.
On your iPhone: Click the book icon at the bottom and add the link to your bookmarks or book list.