What would clothing be without labels? A label is the finishing touch that really completes your product and can even be the deciding factor for customers when deciding which brand to pick. A beautiful label can grab the buyer's attention and give them a better sense of why your product is special. It is not an easy task to find exactly what you need given that there are so many options available. Discover the Wunderlabel range of labels to decide which product type is best suited to your needs. Our aim is to offer our customers the quality that their creations deserve!
What is important when choosing a label?
How do you picture your ideal label? Get to know the most important properties of labels to help you decide.
The material of the label is definitely one of the most important factors to consider. Wunderlabel offer a variety of different materials:
- Polyester
- Cotton
- Imitation Cotton
- Leather
- Paper
Folded labels are very useful and popular. Wunderlabel offers many folded label options and you are sure to find one that will fit your product.
Printed labels are not pre-folded and will need to be folded by hand. Make sure that you upload a file with the appropriate design for a folded label.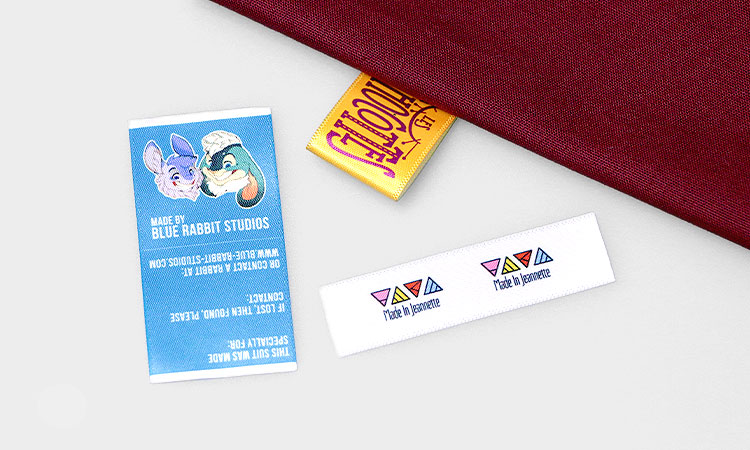 Woven labels are particularly popular with DIY enthusiasts and in the textile industry. They can be washed in up to 194°F (90°C) and are soft, flexible and durable. See the folding options that we offer below.
You can design your woven labels with or without a fold. As mentioned before, you can choose the folding option that best suits your needs:

- End folding left + right
- End folding top + bottom
- Center fold
- Manhattan fold
- Book cover fold
- 3 different types of hanger loops
One of the big advantages of choosing woven logo labels is the split label option that allows you to make a substantial saving.
Choosing the right colors for your labels is of the utmost importance as well. The best choice is influenced by factors such as the color of the product, the color of the packaging, and matching the background color to the text color. Wunderlabel has a selection of Pantone colors for you to choose from.
The numerous design options make for a unique label that will make your product stand out. Properly designed labels serve a bigger purpose than just displaying information: They create a brand identity that will set you apart from the competition.
They can be an advertising medium, practical hanging loop or a stylish finishing touch for your textiles.
Head to the Wunderlabel shop and choose your printed or woven labels!