Summer break is coming to an end and we are starting to think about what our children will be needing for the new school year and how we can help them get organized. We have a great idea: Name labels for school and daycare.
To make sure that school supplies don't go missing, they should be labeled. Unfortunately, not all school items come with labels or if they do, the labels are just plain boring. Wunderlabel name tags can be designed to suit your taste and are real eye-catchers. Allow us to show you our 6 most popular name labels!
1. Name stickers for school
Name stickers are suitable for materials that are changed frequently, such as pads, notebooks, etc. They are made from high quality decal paper and digitally printed for bright colors and crisp graphics. Choose from a variety of shapes from round to square, many fonts, colors and symbols.
Round name stickers are simple and very practical. Make your school supplies recognizable and embellish them at the same time by labeling them with name stickers.
Square name stickers for notebooks have enough room on them for a name, classroom number, subject and symbol. They are perfect for labeling workbooks as well as notepads. There are many colors to choose from so that you can have a different one for each subject. Alternatively, you can have your child's photo printed onto the sticker.
Design your name stickers now >>
2. Iron-on labels with name for school
You don't need any sewing skills for these labels as they are quickly and easily attached with an iron. Iron-on labels have the following advantages:
- Iron-on name labels only take a few seconds to attach and last a long time
- Iron-On labels made from PU are ideal for clothing, pencil cases, backpacks and other apparel.
They are available in two sizes (1.8" x 0.47" (46 x 12 mm), 1.97" x 0.79" (50 x 20 mm) And with a choice of three text colors (black, red or blue).
Create your design for iron-on labels now >>
3. Woven labels for pencil cases and more
Woven labels are available to sew on or iron on. They are particularly good for pencil cases, gym bags and backpacks. They come in two sizes 2.4" x 0.6" (60 x 15 mm) and 2.4" x 0.8" (60 x 20 mm) and can be personalized with three rows of text and a choice of symbols, fonts and frames.
Start designing your woven labels >>
4. Printed sew-on name labels
Printed name labels are perfect for school clothes, pencil cases, backpacks or bags. They are washable at all temperatures, flexible and durable.
Our online design tool lets you experiment with formats and sizes, different frame types and colors. You can choose from a wide range of background colors, fonts and motifs to create your very own sewing label.
Printed labels come in a variety of materials (satin polyester, 100% recycled satin, 100% recycled Tyvek). Depending on the label size, you can enter up to 4 rows of text. The available text colors are black, silver, gold, red or blue.
Make your own printed labels >>
5. Labels with sparkling text for pencil cases
In addition to standard colors, Wunderlabel also offers melange color yarns and 4 sparkling colors for a uniquely elegant look. Labels with silver, gold, red or blue sparkling text can also be further embellished with one of our symbols and a frame.
Get creative and design your labels with sparkling text >>
6. Leather labels for backpacks
Leather labels come in genuine leather, faux leather or WunderPap and are available in different sizes. Our color range spans from classic leather colors to a unique wood look. To make it easier to attach the labels, they can be finished with laser-cut holes.
Customize your leather labels >>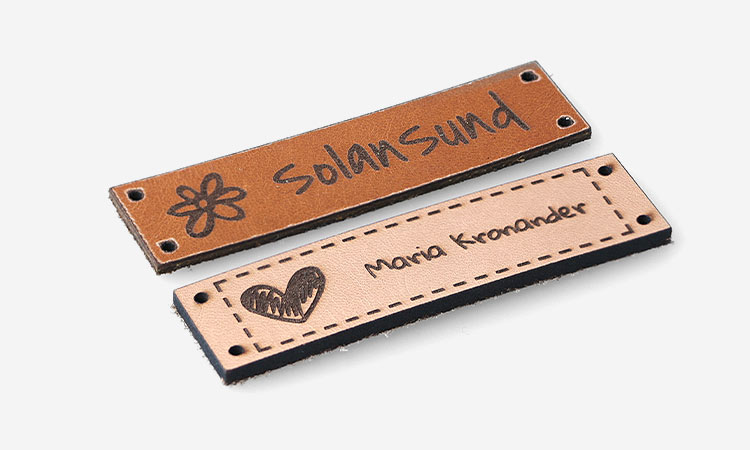 Our leather name labels in classic brown look especially good on backpacks.
Leather name labels can also be used as tags for keys and bags. Simply choose the relevant punching option to make personalised leather tags and use our online configurator to design your own.
We hope that our list helps inspire you! Go to the online design tool of your choice and start creating a unique label. The configurator will guide you through the design process for a 100% personalized label.