If you are on the lookout for a beautiful and simple sewing idea, then you can sew an upcycled toilet paper holder with our free tutorial. It's a great idea for storing toilet paper. If you yourself don't really need toilet roll holders, this sewing idea is an original gift, for example for your friends.
There are several reasons to sew a toilet paper holder yourself:
1. Personal style: By sewing a toilet paper holder yourself, you can design it according to your own taste and adapt it to your own needs. You can use different fabrics, colors and patterns to create a unique and personal look.
2. Upcycling: Sewing toilet paper holders is a great upcycling project to give old clothes a new life and avoid waste.
3. Creativity: Sewing a toilet paper holder can be a creative and relaxing activity. There are many different patterns and techniques to try and it is a way to unleash your creativity.
4. Customization: You can adapt the self-sewn toilet paper holder to your own needs and the design of the bathroom. For example, you can sew a holder with an additional pocket for wet wipes or other toiletries.
5. Gift idea: A self-sewn toilet paper holder can also be a beautiful and practical gift idea to give to friends and family.
To add a creative and individual touch to the sewing project, we are sewing a toilet roll holder in a cute monster look with a handmade label.
Material:
- An old pair of jeans or jeans fabric scraps
- Fabric scraps
- Googly eyes
- Sewing thread
- Personalized iron-on label
Instructions
1. Prepare your materials.
2. Cut 2 fabric pieces measuring 50 x 13 cm, one from jeans fabric and one from lining fabric. You will also need a 15 x 12 cm piece of fabric for the hanging loop.
3. Fold the fabric for the loop in half (as shown below) and sew closed on the long side of the fabric with a 2.5 stitch.
4. Turn the loop inside out and place it so that the seam is in the middle.
5. Fold the sewn loop so that it can be fitted into the roll holder later.
6. The long strips of fabric are now placed right sides together and pinned. Sew with a 2.5 straight stitch, leaving an opening on one short side. The opening must be large enough so that the loop can be fitted there later.
7. The corners are then trimmed and shaped with a knitting needle (or similar) after having turned the piece inside out.
8. The loop is inserted into the opening and aligned. Now sew all around with a 3.5 straight stitch.
9. Clip the holder together, insert the toilet roll and place the eyes. You can now pin everything together. Sew or stick the eyes on and cut a slit for the mouth. The mouth opening can be fixed with a zigzag stitch (3.5/length 2).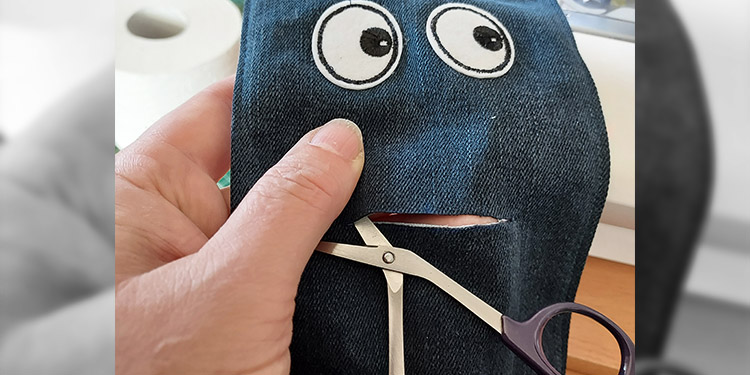 10. It is now time to sew the two short sides at the top together. You have finished the project! As a finishing touch, fold the toilet roll and pull the pointy end through the "mouth".
11. Iron your personalized label on the front of the toilet paper holder.
12. All done!
Don't miss these blog posts from Wunderlabel:
Hanging Storage Bag - Free Tutorial
13 Upcycling Ideas for Leftover Fabric Scraps
Do You want to save this idea for later?

Simply bookmark the link to this blog post or add it to your "Favorites" so that you can quickly find it in your browser later.
Here is how to save the tutorial:
On your computer: Click on the asterisk or the three dots in the top right hand corner or on the book icon in the top left hand corner (depending on the browser you use).
On your Android smartphone: Click on the three dots in the top right hand corner and then on the asterisk.
On your iPhone: Click the book icon at the bottom and add the link to your bookmarks or book list.